Today is the trend of using PEO services
In recent years, the demand for PEO has increased acorss the whole word. Many large companies have switched from traditional full-time employees to professional employment organizations. With several benefits and flexible options, PEO helps employers get more revenue than before by decreasing employee costs.
Perhaps PEO services in Vietnam are pretty strange, but in the abroad market, it's a strong growth industry. 
According to the Straits Research Report, The global professional employer organization market had a market share of USD 41,997 million in 2017 and is predicted to Reach USD 147,134 Million by 2030. The result has shown the effects of this industry in the new decade market.
The Vietnam labor market is growing fast, so it is attractive for abroad organizations to expand. And if you're looking to expand your business into Vietnam. In that case, the most accessible, flexible and cost-effective way is using PEO employment or hiring staff under a reputable Professional Employment Organisation (PEO) arrangement.
What is a Professional Employer Organization (PEO)?
PEO stands for Professional Employer Organization. You may have heard PEO services referred to as co-employment, business process outsourcing, or HR outsourcing.
A professional employer organization is a business that specializes in handling payroll, benefits, tax paperwork and other human resources functions for other businesses. 
PEOs help you focus on your core business operations, while providing you with the expertise needed to manage your employees and their benefits. Service offerings may vary by PEO, but generally include: Payroll processing, Payroll tax administration, Payroll-related consulting and reporting, Payroll-related legal services, Health and Social Insurance Regulations…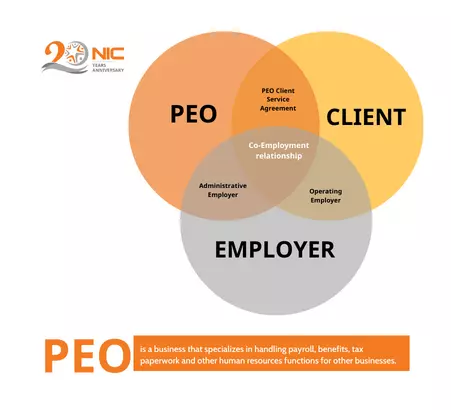 What kinds of businesses benefit from PEOs?
Small and midsized businesses tend to be in co-employment arrangements the most, but larger organizations can also benefit. In fact, PEOs are a good fit for almost all industries, including, but not limited to:
FMCG industry
Finance
Real estate and property management
Engineering services
Management consulting services
Business services
Manufacturing
Insurance
Why do you need the PEO in Vietnam
PEO provides convenient services for customers want to recruit employees and manage payroll in Vietnam. We can help you recruit your candidates in compliance with local labor laws and they can be onboarded in days instead of months as it would normally take.
When negotiating the terms of an employment contract and offer letter with an employee in Vietnam, it may be useful to keep the following standard benefits in mind:
The Employment Contracts
Working Hours in Vietnam
Holidays in Vietnam
Vacation Days in Vietnam
Vietnam Sick Leave
Maternity/Paternity Leave in Vietnam
Health Insurance in Vietnam
Vietnam Supplementary Benefits
Bonuses
Termination/Severance in Vietnam
Paying Taxes in Vietnam
The Employment Contracts
The law requires a written labor contract in Vietnam, which clearly outlines the terms of salary, benefits, and termination requirements of the employee. In addition, the contract should include mandatory information such as: social insurance, health insurance; Work location; contract term; training, fostering and improving professional qualifications,
Working Hours in Vietnam
Holidays in Vietnam
Vacation Days in Vietnam
Vietnam Sick Leave
Maternity/Paternity Leave in Vietnam
Health Insurance in Vietnam
Vietnam Supplementary Benefits
Bonuses
Termination/Severance in Vietnam
Paying Taxes in Vietnam
What a PEO can do for You and Your Business?
NIC Global can provide comprehensive PEO solutions encompassing the following:
1. Talent Recruitment
A credible PEO provider can help you recruit a qualified workforce and talent from all around the world.
2. Payroll Management
PEO agency can help you handle all your payroll functions. For example, payroll calculations, social benefits deduction, and payment coordination.
3. Employment Contract Drafting
PEO can assist you in drafting a legal employment contract that will eliminate possible future employment disputes.
4. HR Functions Management
A PEO can take care of other HR functions including benefits and insurance administration, holiday and leave benefits management, and other risk management tasks.
5. Risk and Compliance
PEOs typically have a good understanding of the laws and regulations that your company has to follow. This can be helpful for you in managing risk and making sure your business is compliant with legal standards. This service can be especially beneficial if your company operates in multiple states or regions where employment laws vary.
More Services
Most Business Process Outsourcing companies in Vietnam provide A-Z corporate services, which include complementary services you will most likely need;,those have:
Immigration and Legal Consulting
Consultations on immigration and other legal matters are also part of the PEO services, depending on your unique business requirements. UPDATE: At this time, we are NOT offering immigration/VISA services as a one-time offer. We are, instead, presenting it as a package deal. If you opt for our Company Registration or Business Process Outsourcing products, then we can help you with the visa in conjunction with those services.
Tax Handling
Employers of record or PEO are experts who are familiar with the tax legislation and structure in Vietnam. They can help you ensure your tax matters comply with the latest Vietnam tax laws.
Advantages and Benefits of PEOs
Engaging with an Employer of Record of PEO can improve the in-house business performance and efficiency and eventually increase your business profitability. Here are some of the main benefits of using a PEO:
Reduce expenses and costs – decrease the number of full-time employees

Minimize or eliminate risks and liabilities – full compliance with Vietnam's laws

Save time and money on recruitment – obtain qualified staff within and outside Vietnam through PEO's expansive network

Enter Vietnam's market in a short time without having to worry about recruitment and administrative tasks

Boost overall business performance, efficiency, and growth
The Leading PEO Services in Vietnam
At PEO services, we pride ourselves on being the leading provider in Vietnam. We offer a wide range of HR-related services such as recruitment, payroll services, payroll software, paycheck, health and social insurance, and more.
You can focus on hiring the best candidates while we take care of the rest. Our user-friendly software will make it easy to implement our technology into your business seamlessly. With just a click of a button, you can simplify everything.
When using PEOs, most companies save money in the long run because they do not have to hire an in-house HR team for the work.
There are two common ways that PEOs may elect to charge business owners for their services:
per-employee fees

percentages of the total monthly payroll
Knowing this can open up more opportunities to budget your resources or invest in better projects for your business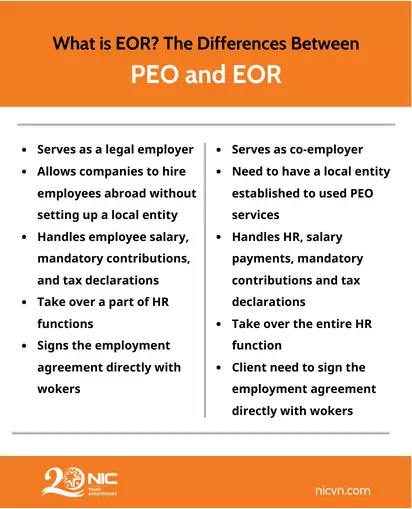 What is EOR? The Differences Between PEO and EOR
A Employer of Record (EOR) is a company that serves as the legal employer for your employees. This means that you don't need to go through the process of business registration in a foreign country.
Your remote workers have a legal employment relationship with the EOR, while you remain in charge of day-to-day management. When hiring through a EOR, you're supported by legal experts who are familiar with local labor laws and regulatory compliance in the countries where you want to hire employees. This reduces the risk of legal and financial penalties.
Professional Employment Organisations (PEOs) are extensively used in foreign countries for employment and payroll support. Sometimes the term is used interchangeably with EOR (Employer of Record), but there are a few key distinctions between these two employment outsourcing services. In most cases, a EOR is the sole and legal employer of record, and PEO shares some employment and payroll tasks with the client.
For example, NIC Global is a PEO and a EOR; this is because we help our clients hire and expand compliantly and efficiently in Vietnam. We are both because we offer Employer of Record (EOR) and co-employment formats dependent on the location's operational requirements and local employment laws.
Learn more about PEO in Vietnam