Staffing solutions come in a variety of forms to meet specific client needs, from short assignments to full-time hires. Here are definitions of the basic types of staffing services, as well as the occupational categories typically served by the staffing firm.
A staffing firm supplies employees to work on short or long-term assignments. Employees are recruited, screened, and assigned by the staffing firm.
NIC Global enables to offer the tailored or package HR solutions as customer's needs: recruitment; manpower management, training; payroll; performance appraisals and others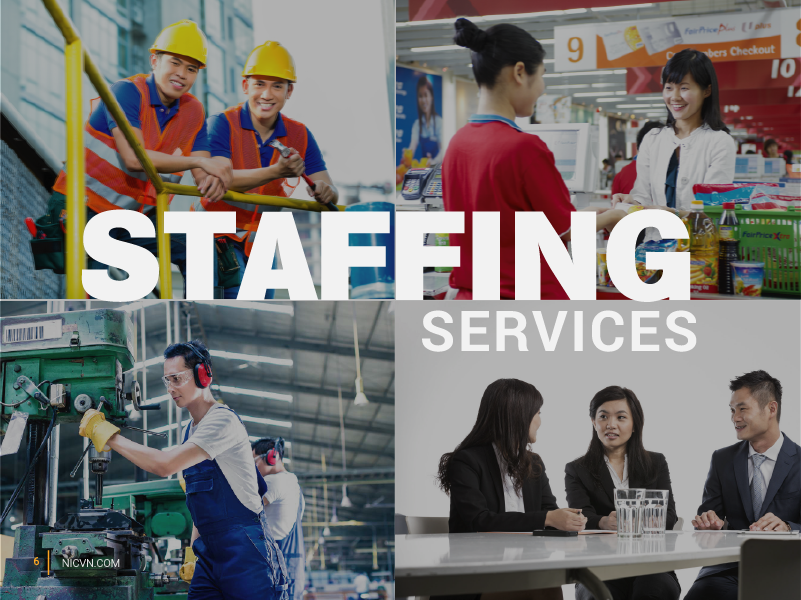 Provide personalized HR solutions or flexible packages according to customer requirements
Benefits of choosing
staffing services
Expertise
Knowing trends and understanding market; laws & regulations to provide the best practices

Resources
Bigger manpower databases to find the perfect candidates that match your needs

Save money
Maximization in creating the added-values by concentrations of limited resources and core capability to the comparative advantages instead of its widespread

Reduced risk
Reduce the risk of hiring the wrong people. The customer gets to test new employment in a certain period before making a commitment to hiring them

Added Flexibility
The customer can adjust production, up & down, whenever it needs to. The customer can have extra hands when it needs them—for maternity leaves, sick leaves, vacation time, seasonal work, or unexpected surges in business—but the customer doesn't have to commit to paying these workers once the work slows down again. You won't have to deal with layoffs and downsizing, either.

Let NIC set up the solution for you