In a survey career trends of LinkedIn 26.151 members in 39 countries on May 01 & May 03/2016 and 6.745 members changed jobs on May 02-03 / 2016 about finding job trends in 2016, the result was leaves: almost everyone is open to hearing about a new job opportunity. But why do you still have difficulty in recruiting talent and should recruiters do to attract and recruit talents in 2016?
1.Most candidates want to hear more from Recruiters
Great news for Recruiters were: 90% of talented candidates all over the world are very open to new opportunities. This means that no candidate had negative thoughts about the idea of changing the work environment.
Research Career trends shows: Most professionals are passive. They means someone is thinking of changing jobs, not looking but would be open to discussing one, or not interested in chatting about any new jobs.
Recruiters should know: Most professionals are passive
2. Candidates want to know: Culture and values; Perks and benefits; Mission and vision about your company
The biggest roadblocks candidates face when changing jobs:
Not knowing what it's really like to work at the company
Not understanding what is expected of the role
Not hearing back after applying to a company
Diffivulty negotiating ( salary, title, role, etc…)
Unclear communication
And they want to know: Culture and values; Perks and benefits; Mission and vision about your company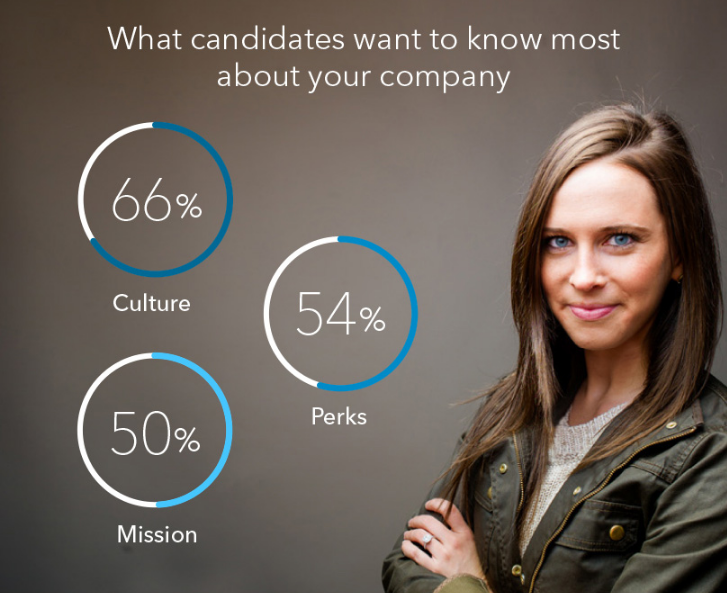 60% candidates interested in Culture and values
Wendy Goretski – Associate Director Bussiness IT R&D Gilead Sciences said: "The mission of a company matters to me.  I know many companies have aspirations, but Gilead actually delivers on theirs. They aren't just satisfied with a drug that makes people better, they are going for a drug that cures disease"
The report also provides 5 tips from candidates about what recruiters should share with them: Give an honest perspective; Share employee views; Explain what makes you different; Clarify the vision and strategy; Be open about retention
Professionals want more than a job, they want career growth
3. When people interact with your employer brand, they're more likely to be interested in your roles
Interesting facts:
The first and last thing most candidates do is interact with your employees
Successful job seekers are 9X more likely to research current employees
One thing stands out: Your employees play a big role in hiring. Why? Research Career trends shows:
53% of those who network say it helps them secure the job and 89% of job seekers network while seeking their current job.
4. People don't see themselves at one company for long
These are professinals who find personal fulfillment in their work and want it to have an impact on the world. They are less motivated by status or money, and tend to accept a job because of your company's culture, vision, and products.
Over 2 in 5 people see themselves at their current company for less than 2 years. Recruit those who are more likely to stay by looking for candidates who are motivated by purpose rather than status or money
From the information in the report, LinkedIn provided 4 ways to apply these trends to your recruiting strategy: Help candidates discover you well before they apply; Empower your employees to recruit; Get specific about your culture, values, and careers; Recruit those who are most likely to stay and succeed.
Now that you've read this global Career trends report, get your country's Talent Trends Report so you know how to get candidates in your country to say "yes"
About Us
Founded in 2002, NIC Human Resource Consulting JSC has been well-known as the leading, professional and experienced company in Vietnam in providing Human Resource Solution services to local and global companies. NIC is also an official member of EuroCham Vietnam and AmCham Hanoi as well. A diversity of services which we provide to customer including:
o    Temporary Staffing
o    Executive Search
o    Payroll Management
o    Representative Office Services
o    Expatriates Compliance Services
Le Thuy Hang (nicvn.com)