In the series of customer appreciation activities and creating more value for HR  community of Vietnam in general and of the northern region in particular, in the afternoon of March 27, 2019, NIC Global has cooperated with ActionCoachIBC to organize the Workshop DISC – HR Assessment Tool.
"He who sees through life and death will meet most success" is what has been well-known to everyone so far. How to understand yourself and other people? To know what your strengths, weaknesses? What other people need?  Then, you can overcome the limitations and promote the strengths of yourself, as well as adjust the behavior to "meet most success"? For every one, this is essential but for those who are managers, who work in HR sector, this is extremely important.
Acknowledging  that importance, NIC Global has cooperated with ActionCoachIBC to organize a workshop with the topic DISC- HUMAN RESOURCES ASSESSMENT TOOL.

The workshop has been conducted with the participation of nearly 100 representatives from many businesses who are customers of  NIC Global and members of HRA and HR Networks which NIC Global is a member and partner.

Under the lead of MC-La Ba Huy – Business Development Director of NIC Global and the guidance of the Business Coacher- Nina Yen Nhan – ActionCoach IBC, everyone has had deep understanding of this assessment tool.

Especially in the Teamwork exercise part, the groups had very lively discussion; through it, having better understanding of  their group's personality and the other groups. In addition, they have known how to apply this tool in their personal lives, their works and their management: how to arrange human resources to build an effective teamwork group, build corporate culture, recruit employees who fit  business vision and have suitable training program.

At the end of the workshop, the Organization Board  have received many positive comments and ideas from business representatives. These are extremely valuable feedbacks for NIC Global to organize  more useful programs in the future.

Below are some pictures from the workshop: 
  Mr. Le Hong Diep – Deputy General Director of NIC Global gave a speech at the beginning of the Workshop
NIC Global and ActionCoachIBC's Representatives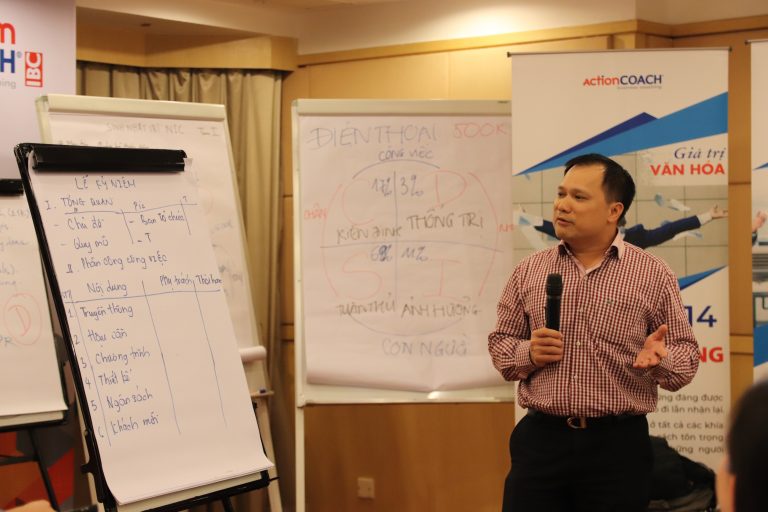 Ideas presentation for group exercises
Business Representative taking photos at the end of workshop